Dusk reminds me of being at Thana. When I say Thana, it only means one thing. It means being at my aunt's house on the Thana main road. Yes, that house with the peacocks.
When my mom needed to run errands during the day, and there were no baby sitters around, we'd be dropped off at Thana. It was always fun being dropped off at Thana especially when my nephews, who were around my age, were home on break.
Of all the dusks of my childhood, the only mental snapshot I took was while sitting on that black vinyl couch by the floor to ceiling window with the black grills in front of the side verandah. The sound of bus horns peppered the evening noises of the mosque prayers and commuters rushing home.
My nephews weren't home on break that day. I don't think my brother was there either. I was dropped off by myself. All I remember is sitting on that couch, probably with a book nestled in my hands. Books were my closest friends as a child.
And somewhere mid reading, just like that, I must have taken that mental snapshot that has stayed with me all these years. That is what dusk is to me. It's the Thana bus horns honking away.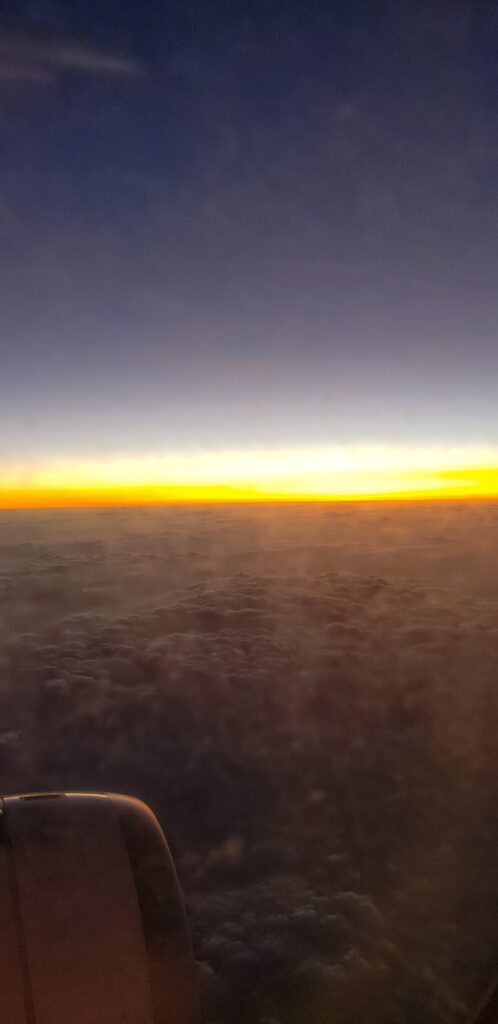 That is where I got transported as I stare at the sun shining a bright orange, as I sit high above the clouds in this dimly lit cabin. I'm not transported to an image of a sunset. I'm transported to a time and place when I experienced a sunset where all my relevant senses were satiated.