Every story is simple if you break it down to bare metal. As i pick up this book, which by the way feels damp and sticky because of all the moisture in the air, I wonder if my story was as simple. Living through it was messy and complicated. It is my hope that in writing this manuscript, I'd be able to see things as a third person might see it.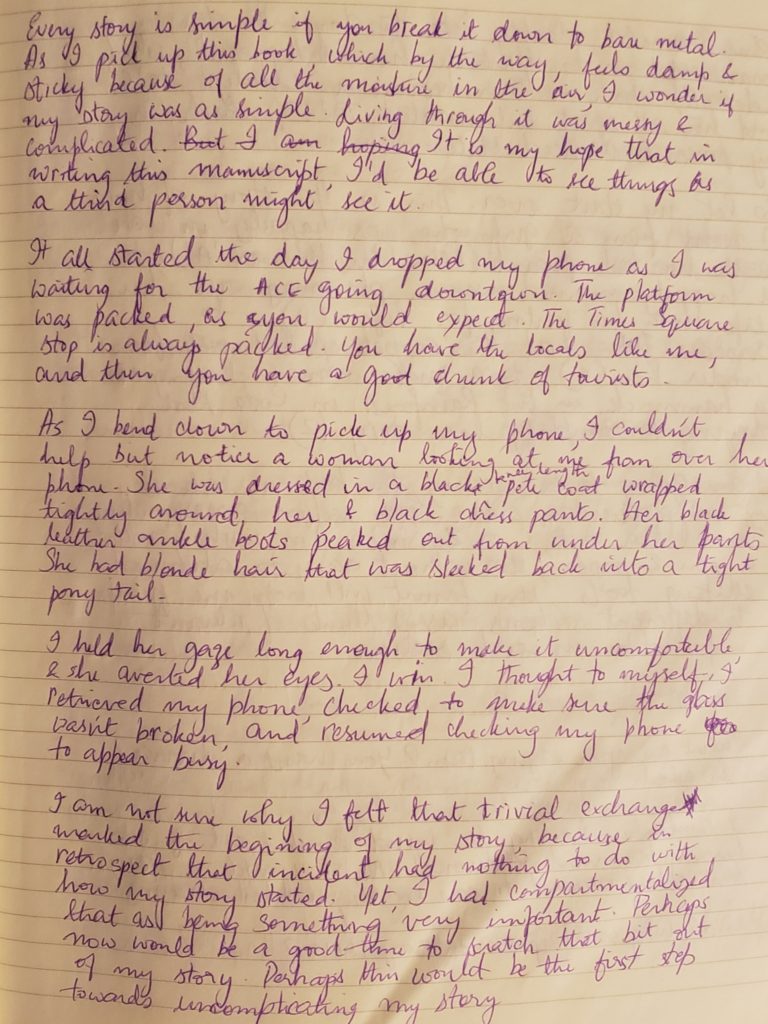 It all started the day I dropped my phone as I was waiting for the ACE going downtown. The platform was packed, as you would expect. The Times Square stop is always packed. You have the locals like me, and then you have a good chunk fo tourists.
As I bend down to pick up my phone, I couldn't help but notice a woman looking at me from over her phone. She was dressed in a black knee length pea coat wrapped tightly around her, and black dress pants. Her black leather ankle boots peaked out from under her pants. She had blonde hair that was sleeked back into a tight ponytail.
I held her gaze long enough to make it uncomfortable, and she averted her eyes. I win. I thought to myself. I retrieved my phone, checked to make sure the glass wasn't broken, and resumed checking my phone to appear busy.
I am not sure why I felt that trivial exchange marked the beginning of my story, because in retrospect, that incident had nothing to do with how my story started. Yet, I had compartmentalized that as being something very important. Perhaps now would be a good time to scratch that bit out of my story. Perhaps this would be the first step towards uncomplicating my story.