I checked out from my hotel and started out from downtown Nashville at exactly 6.30am. As per Google maps, the entire drive was meant to be 13 hours straight shot, but given that Zoomy (my car, aka the diva), needs charging along the way, I ballparked an extra 3-4 hours to my trip.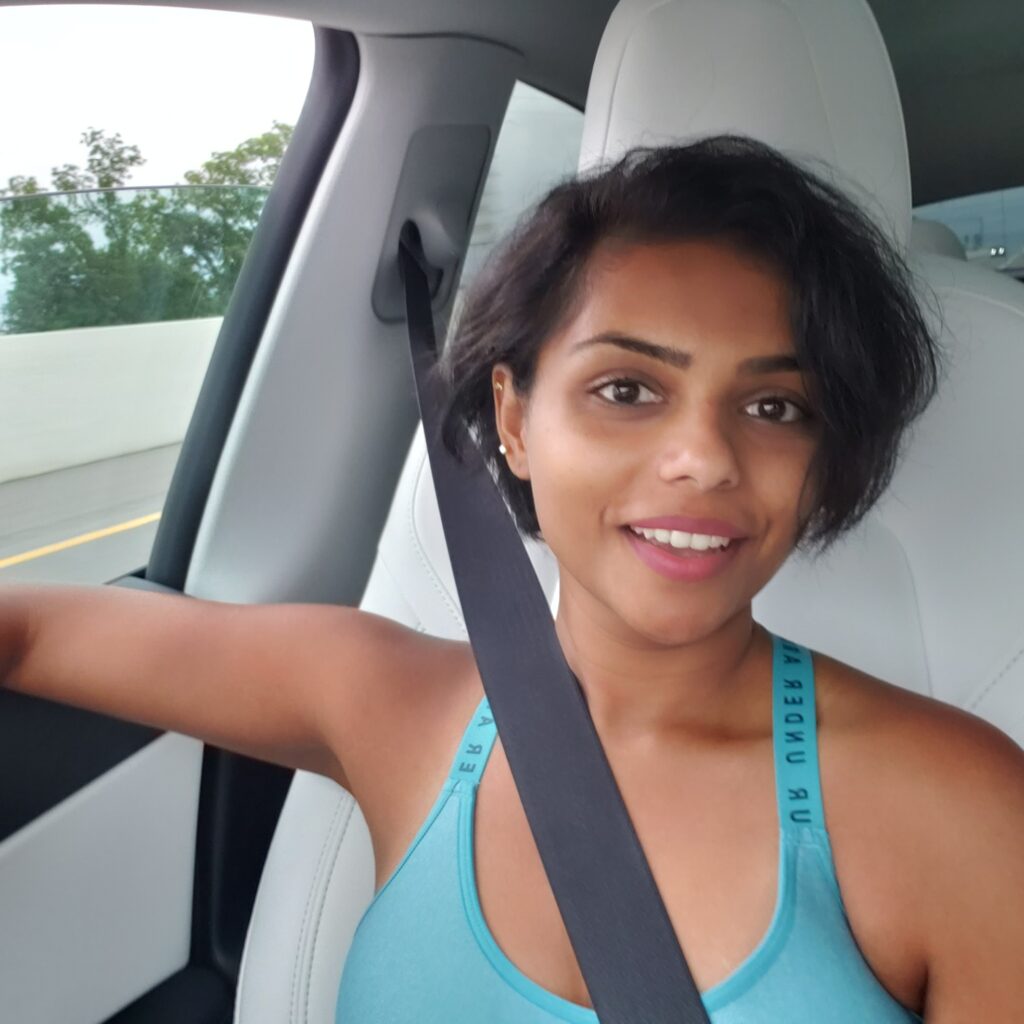 I was shooting to get into NJ by around 11.30pm to 12.30am Eastern Time. Even though I was mentally prepared for the long drive, I was also prepared to stop along the way and continue my trip on Sunday if I started feeling too tired. I kinda wanted Sunday to be my couch day at home, so I was hoping to make it in 1 day.
But then again, I was also prepared to drive into a fascinating new city (Philly? Richmond? DC?) where I could hole down for a week. Essentially, when I set out, even though I knew I was going to Jersey, I was also open to new adventures if they were thrown my way. This is another perk of traveling solo. You get to follow your heart!
When I set off at 6.30, this is what the Tesla route planner told me my day was going to be like.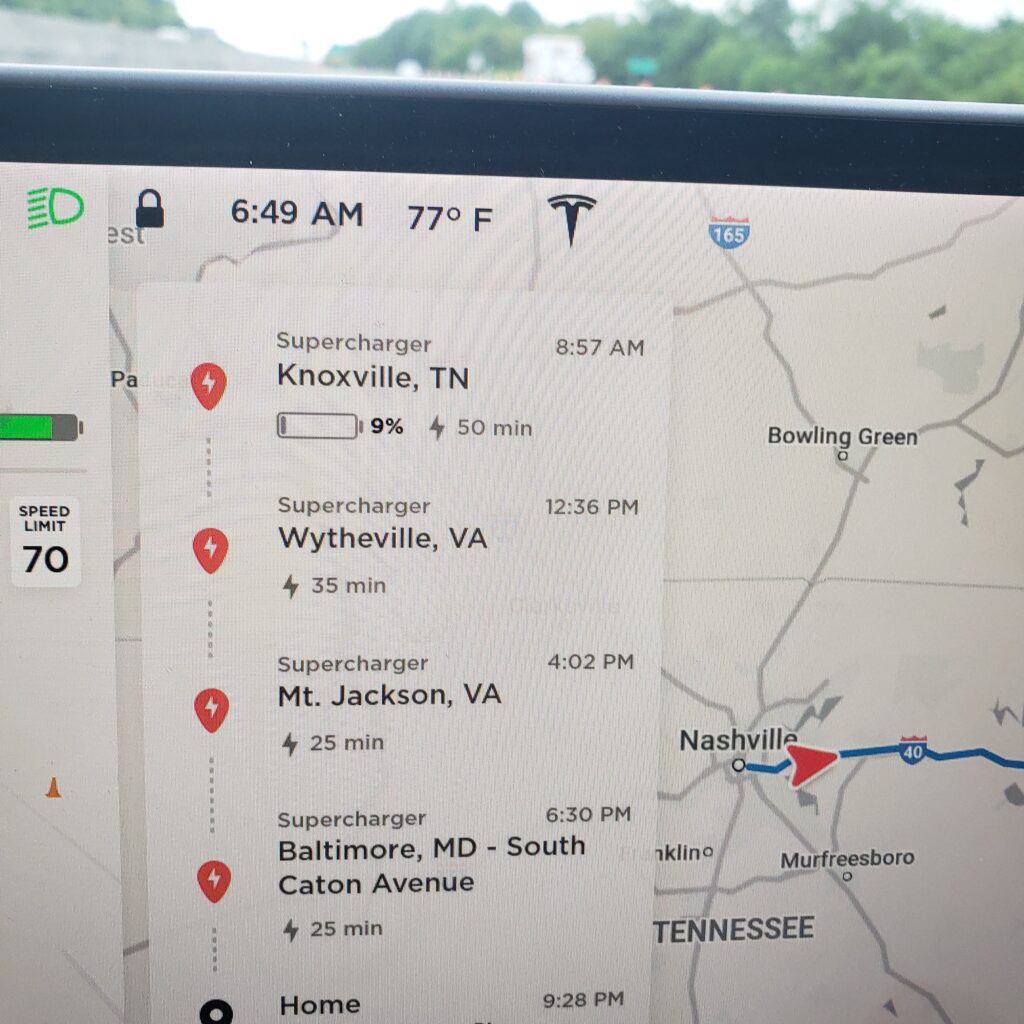 You have to bear in mind that Tesla is reporting all times in Central Time in the above picture. This means that even though it reports an arrival time of 9.30pm, that's actually 10.30pm Eastern Time. Nashville is in Central Time and New Jersey is in Eastern Time and Tesla's clocks report time in whatever the current timezone is set to. It doesn't even call out that we will be crossing timezones.
The drive was fairly smooth, even though I hit a thunderstorm just as I pulled into the Mt Jackson supercharger around 6pm. I was warned of this thunderstorm by my friends in NYC, since it was making its way from the East Coast.
Once parked in front of the supercharger, with the rain pouring down, I Googled whether it was safe to charge in a thunderstorm. The answer is yes.
This particular supercharger was thankfully at a gas station/convenience store. While letting my car charge, I ran into the convenience store when the rain broke momentarily. By the time I got my coffee and was ready to go back to my car again, it had started pouring.
The Tesla superchargers were installed quite a walk away from the store, so I waited for a break in the rain to make a dash back to my car. While waiting, an airline pilot struck up a conversation with me. We talked for about 10 minutes about California and New York and life in Virginia versus the big cities, before each of us decided that we should probably dash out.
I often wonder about the brief acquaintances we make throughout life. I've met some really cool people and shared some genuine moments with some amazing people across the world. For a brief time, our lives interwine and we share a moment. And then we go our separate ways never to see each other again.
One of them is the front desk host at the second hotel I stayed at in Nashville. She was amazing, and went above and beyond her job description. She would greet me everyday by my first name and always had a cheery smile on her face.
I wonder how long it would be before she forgets my name, and I forget hers. And how long it will be before we both forget about each others existence. Does it matter? Probably not. We are not meant to retain everyone that comes into our lives.
Heading out from Mt Jackson, and driving out into the thunderstorm, I got to see some amazing lightening formations in the sky late into the evening. My friends tell me I take a lot of pictures, but half the time, the things that I retain the most in my mind's eye are things I don't capture on camera.
These memories linger and show up years later in my writings. Maybe someday I'll write about the lightening that split the sky on that drive from Nashville to the Jersey Shore.
But anyway, you're not here to read about lightening or about interactions with random strangers. If you've made it this far, you're here to find out about the key takeaways from my massive one day drive in a Tesla.
45 mins of charging per 3 hours of driving
My diva needs a 45 minute feeding break for every 3 hours of driving. What this means is that for a 13 hour drive (which is how long it takes to drive from Nashville to the Jersey Shore), add in an extra 3 hours for charging.
This isn't so bad really, because it sort of forces you to stop and stretch your legs, eat while not driving, take a nap etc.
Restroom breaks and food breaks can't be combined with charging stops
Another huge callout is that unlike our gas guzzling peers' fueling stops, the Tesla charging stops don't always guarantee a restroom or a place to purchase food. For example, one of the charging stops was at an outdoor mall (Knoxville, TN) and another one was in a Hyatt parking lot (Whytheville, VA).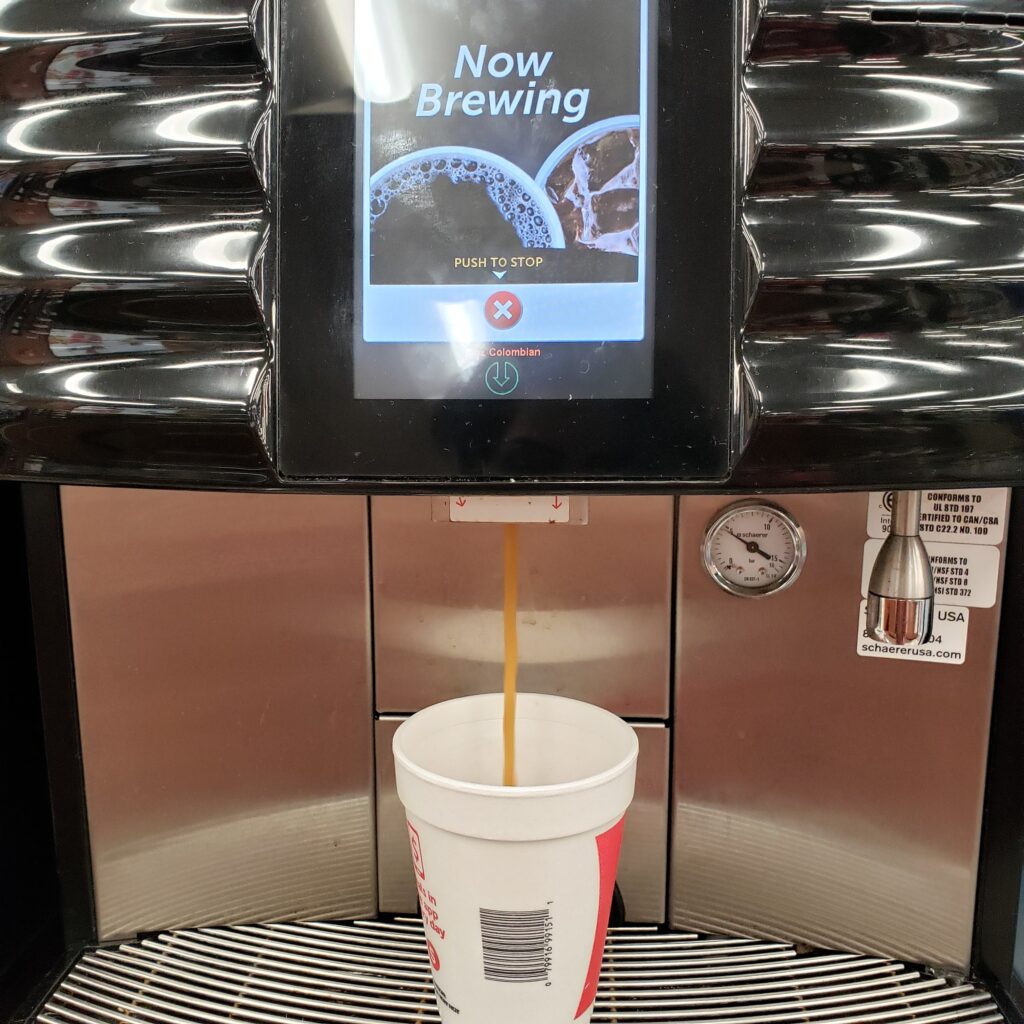 This means that unless you packed food, you will need additional food stops, and guaranteed separate restroom breaks. These stops ended up adding an extra hour to my entire trip.
Autosteer is reliable but be on alert
I love the Autosteer. I'm fairly certain this drive would have been exhausting had I not had the Autosteer. I thought it did pretty well in general, but I did have a couple of truck drivers honk at me while I was using it. I haven't figured out why. Perhaps the car was hugging the lane too close to their truck? Perhaps they were worried because maybe I seemed distracted? I'm not sure.
Either way, I try to be as alert as I can when using it. But I also trust the Autosteer more than a human in being alert for 17 hours straight.
This is one example of why it pays to be alert when using the Autosteer. If the car in front of you starts braking slowly, the Autosteer wouldn't pick it up until it gets too close to it, and then it slams on the brake. This is a scary experience and has caught me off guard a couple of times, especially when there were cars behind me.
In general the Autosteer does a good job of making sure you're paying attention by having you apply pressure on the steering but on highways where the speed is expected to be constant, it doesn't check in on you often enough.
Autosteer stops working if Tesla decides you're distracted
If Autosteer asks you to apply pressure on the steering, and you don't, even after it starts making warning noises, Tesla penalizes you by disabling Autosteer for the rest of the drive.
When this happens, one hack is to pull over, put the car into Park, and then back into Drive again. Autosteer will be available again for the rest of the drive. But please be alert.
In the end, I pulled into the parking spot in front of my home in Jersey at exactly 12.30am. I did very good on time. And the drive hadn't felt excessively long.
In closing, I want to leave you with this song that I recorded while the Autosteer was doing its job.